…and why you probably should too.
This might be a little controversial, and I apologise if it offends. But, I have really had my eyes opened since delving deeply into the world of baking. And, even more so when it comes to professional home baking. I am shocked, and at times, utterly disgusted, by the standards some home bakers uphold when they bake for clients. So much so that I really feel the need to write about it. Honestly, I will never buy a cake from a home baker again.
Baking in your own kitchen
It had not even occurred to me that a person could bake for paying customers in their own home kitchen, but they can, and they very often do. Of course, it's not as simple as just starting a Facebook page and taking orders. You must register with your local environmental health department if you intend to bake professionally. They will require proof that you have a basic understanding of food safety and hygiene, and in most cases, they will also do an inspection of your facilities. You must also register with the HMRC, have permission from your landlord or mortgage provider, and you must have proper insurance.
So far, so good. Most bakers that I have come across have at least ticked a couple of these boxes.
However, that is only the beginning. It is all very well being able to pass a test or two, and an inspection, but in practise home baking just doesn't work at all – for them or you.
Working part-time
Working part time from your home kitchen is not professional. I'm sorry, but it just isn't. Having your family around while you are preparing food just doesn't sit well with me, or environmental health, as they expect your work space to be free of pets. They also expect that everyone that comes into contact with food will maintain the same high standards as you. But, if this happened, I wouldn't read posts on social media written by home bakers whose kids have stuck their fingers in the buttercream or eaten food that was intended for a customer. Or pleas for help after a baker's teenager has spilt milkshake over a fully decorated cake and she doesn't know how to clean it off. I also wouldn't read requests for advice regarding how to fix a cake that had been munched on by the family dog – seriously!
You should also know that food must not be prepared in any kitchen where an infectious disease could be present. In a professional kitchen this simply means that the affected staff member takes a sick day, but what if you bake from home and the sick person is a family member? They should now cancel your cake order, but will you get a replacement at such short notice? If it's for a wedding cake then I doubt it very much. And, unless they are fully insured then you won't get any help from them either. Of course, it could be worse, they could make the cake anyway, and then you and the people you share the cake with could all get sick.
It lacks responsibility
There is a general lack of professionalism that surrounds bakers that use their home kitchen, I think. I don't know if it's because they haven't invested money in their business, or maybe it's because they are only part time, or perhaps it is because they don't depend on the income. Whatever the reason, the way home bakers deal with customers in public Facebook groups is a constant surprise to me.
I have seen private messages between clients and bakers screenshot and posted in groups. They frequently blame their customers when they get the brief wrong and there are complaints. They take orders with no idea of how to fulfil them – this happens daily. Imagine placing an order for the cake of your dreams and the baker is secretly thinking "I don't have a clue how to make it", or even what it is that you have asked for, as happened only the other day when someone asked who Tom Hardy was and how could they make a cake that weekend that was themed around him! It doesn't bother me that they didn't know who he was, but I am bothered that someone would take a deposit for a cake without first googling the idea, drawing it, and clarifying the design with the customer.
Cakes should be fresh
I would not be happy paying big money for a bespoke cake if I knew it had been decorated and frozen in advance? What if it had been baked days in advance and coated in a sugar syrup to make it appear fresh and moist! This happens a lot, and the reason? "I don't have time because of… my job, my kids, my whatever!" If you can't bake on a Friday because of your job, you shouldn't be taking orders for a Saturday – it's that simple. This never happens in a professional kitchen. When you bake full time in a proper premises you have overheads and responsibilities. This forces you to take your business seriously. It has to be your number one priority, and you will bake at the optimum time for freshness.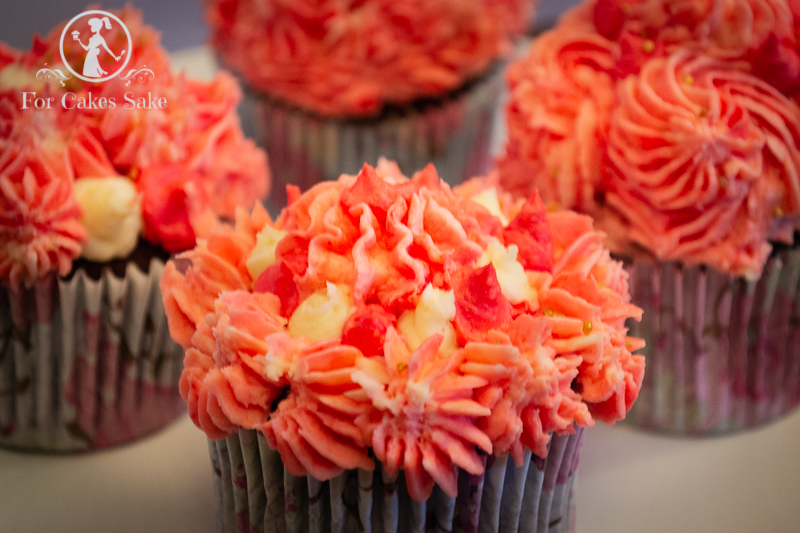 I'm sure that not all part-time home bakers are like this, and I'm sure many do take their business very seriously, but how do you know who they are?
There are a few clues…
Are they taking their business seriously?
Do they have a proper website? And I don't mean a free Wix type site, anyone can get one of those. Have they actually paid for their own dedicated domain name, if their website is something like www.website.cakebusiness.co.uk then they didn't. It costs only a few pounds to buy and register your own domain name, and only a few more pounds a month to have a website. Do you really want to do business with someone that won't even invest a few quid in their business? It says a lot about how much they value their business and their customers.
Do they have a proper email address? There is nothing more unprofessional than when a business gives out a gmail or hotmail address for their business. Their email address should match their website address, ie sandra@cakebusiness.co.uk. Definitely not cakebusiness@hotmail.com – yuk! Again, it indicates a business that doesn't take itself seriously, or care about doing things well. These are not qualities I look for in a bespoke cake designer, I'm afraid.
What payment methods do they accept? It's so easy, and cheap, to accept card payments these days that it is almost ridiculous to think that someone charging more than £100 for their product wouldn't take card payments. Maybe it is because the customer has added protection when they use a credit card, or pay through PayPal. Maybe it is because they are charged a few pounds for the facility. Neither are good excuses, if you ask me, and again, it points to a business that cuts costs and can't be trusted.
What's on their website?
If they do have a website, what is on it? Do they have a page setting out their terms and conditions? Does it mention payment schedules or what happens if you have to cancel, or if the cake doesn't meet your expectations? Do they talk about a consultation process? How, and if, you can get a refund? All essential to make sure you know exactly what to expect if things go wrong. It's very absence tells me a lot about their level of professionalism, their inexperience and their general organisational and planning skills. I won't spend money on a cake maker that just "wings it" with my hundred pound birthday cake order!
Do they list their address? It's a legal requirement to publish your trading address if you sell a product or service on the internet.
Do they use stock photography? You'll be surprised at how many bakers do this, particularly when they start up. But how can you judge their standard from a stock photo? There is an easy way to tell if they do this. Simply download the image to your computer and do a reverse image search on google.
Did you feel valued?
If you got past all that and decided to get in touch…
Did they get back to you quickly and were they helpful? Bespoke cakes are definitely not cheap. You should absolutely expect the best customer service, otherwise why wouldn't you just go to a supermarket?
As a rule of thumb I think you should expect a reply to a message within three hours – maximum. An auto-responder might advise you that they are away from the business until a certain time and that's perfectly fine. But you should expect a prompt response once that deadline has passed. A full time baker will be much more likely to have set working hours and your message be should answered within business hours – just as you would expect from any other business.
When you get a reply you should be feel like your enquiry is important to the business. You should not expect to be told to "check the website" for prices. You should expect them to show interest in the recipient, your event, your cake design and they should make suggestions. They should be forthcoming with prices and be happy to discuss your budget. They should be patient and be glad to answer all your questions.
You should definitely not expect for your private conversation to be screen shot and posted all over Facebook simply because you dared to request the price of a cake. It doesn't matter that the information was available on their website. Although, how the price of a bespoke design could ever be on their website is a mystery to me. Bespoke cake – bespoke price! You should also never be publicly berated because you didn't say please or thank you. Or because in your initial enquiry you didn't mention the number of portions you need.
Negative Content
You'll know who the bakers are that don't value their customers. Just take a look through their social media for any negative phrases like "no time wasters" or "can I remind customers…" or "I have a life/family." Their posts will regularly complain or rant about their business and how it is not working for them, but yet they do it anyway. They will complain about customers messaging out of hours, or late collections, or people not getting back to them. They will complain that people ask for last minute orders, or that they have missed their child's play to make an order for someone. Avoid this baker at all costs – just imagine what she is saying behind the scenes?
Your obligations to the baker
Your job, as a client is to make first contact with the business and that's it. You should not be expected to know how much work goes into making a cake. Or, how much the ingredients actually cost. It is their job to communicate its value to you. Don't tolerate attitude if your expectations on the value of a bespoke cake were not aligned with theirs! And, don't take attitude from a cake baker because you didn't get back to them after they provided a quote to you.
In the past I have ordered two cakes from home bakers. The first cake tasted amazing but the design was not what I expected. Their card machine had also been lost/hidden by their son, which meant I had to get cash at the last minute. Not very professional. The second baker made me the most awful cake – it looked dreadful and tasted worse. It was very rushed and I suspect she had left it to the last minute. In both cases, I firmly believe I would have got a better product from a full time, properly equipped baker.
Of course, there are always exceptions. There will be some awesome home bakers out there who are both passionate and have awesome standards. Likewise, there will be some terrible bakery's too.
Use my checklist (below) to make sure you are buying from a baker that is truly worthy of your money. If you can say yes to most of these, then you are probably onto a good thing!
Checklist of things to look for
Do they have a dedicated website?
Have they registered with Environmental Health?
Do they work full time?
Are they friendly and helpful in their communications.
Do they have a premises?
Does their email address match their website?
Do they offer a preliminary sketch or a photo indicating the design of your cake?
Are their fair terms and conditions fair?
Do the terms and conditions spell out what will happen in the event that they can't make your cake?
Is their social media content only positive?
Do they use photographs of their own products on their website and social media?
Enjoy your cake!
Founder/Caker at For Cakes Sake: a catering company that specialises in Afternoon Tea and Cakes for all types of event.
Writer of novels, blogs and non-fiction works