What exactly is a Scone?
Simply put, a scone is just a type of quick bread. They are versatile little things though, and the variations are almost endless.
They can be sweet or savoury. You can use wholemeal flour, oats, lemonade, sugar, fruit, cheese, and even pumpkin puree in your recipe! And, you can griddle them, fry them, oven bake them, you can even deep fry them.
As if that wasn't confusing enough, they are also known under a variety of different names. For example, when made with potato they are called Tattie Scones and if you use baking soda and griddle them, they are Soda Farls. In America, they are Biscuits, and they can also be Bannocks or Griddle Scones. We already mentioned the deep fried version in Australia, they call these Puftaloons.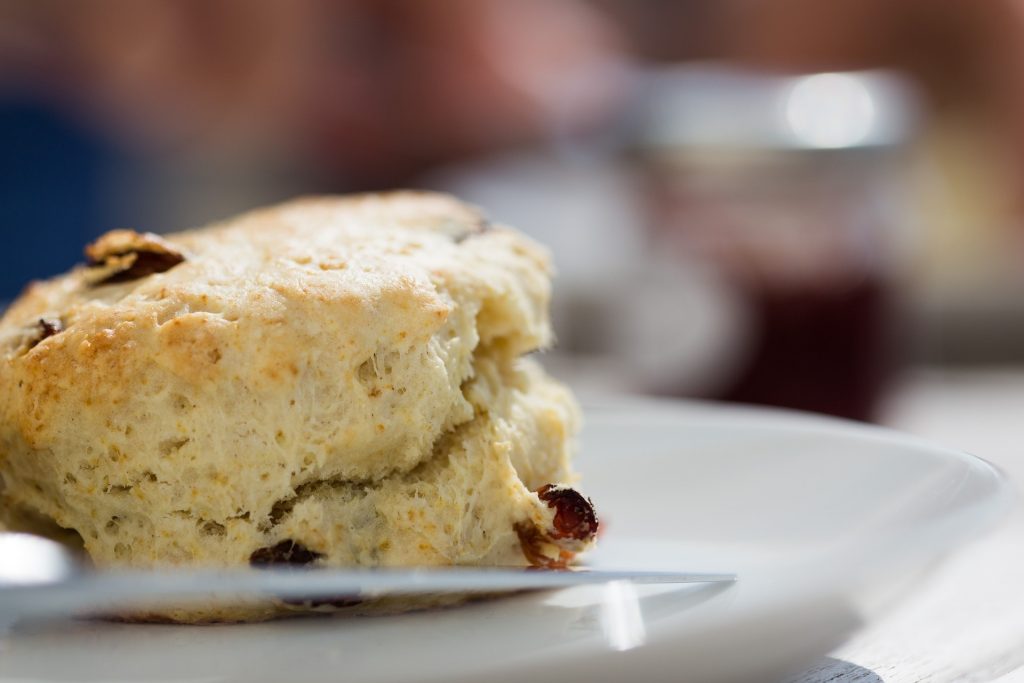 History of Scones
Scones were first made in Scotland, and have been around since the early 1500's. They originally contained oats, and made for a much heartier quick bread than we know today. They were large, flat, and round, and were cooked on a hot griddle (or girdle). This early version of the scone would have been cut into triangles and served with butter. Today, these oaty scones are better known as Bannocks.

The Duchess of Bedford can take the credit for the popularity of the scone though. Feeling peckish, late one afternoon, she requested a snack of sweet breads and treats. That snack included scones and the ritual of Afternoon Tea was born. Many variations followed shortly after – most of which included a scone, or two!
Who names the scone?
The first official mention of the humble Scone was in 1513, but the actual origin of the name has caused some debate over the years. There are four main theories. Some think the name is derived from the Dutch bread, Schoonbrood, which means pure or clean bread. Another possible origin lies in the German word for fine bread, Schönbrot. Or, maybe it started from the Gaelic term Sgonn, which means shapeless mass or large mouthful.
All possible theories, but I much prefer Sheila MacNiven Camerons idea. She suggests the name is actually taken from the town of Scone, Scotland's ancient capital city. Monarch's were once crowned there on the Stone of Scone (also known as the Stone of Destiny). In fact, they still are, only the stone is now kept safely at Edinburgh Castle, and only transported to Westminster Abbey when a new monarch is crowned. I like to think that new Monarchs took tea and scones on the afternoon of their coronation and that the name originated from that. I know our current Queen is very partial to a cream tea!
Skohn or Skon
Once you've agreed on where the name came from, you now have to decide how to say it. Is it Skohn, to rhyme with phone, or Skon to rhyme with gone? The Oxford English dictionary acknowledges both pronunciations. But, it seems the way you choose to pronounce scone very much depends on where you live and what class you fall into. It is estimated that 99% of Scotts will say skon. But, the further South you go, and the higher the class you consider yourself to be, the more likely it is that you will prefer Skohn.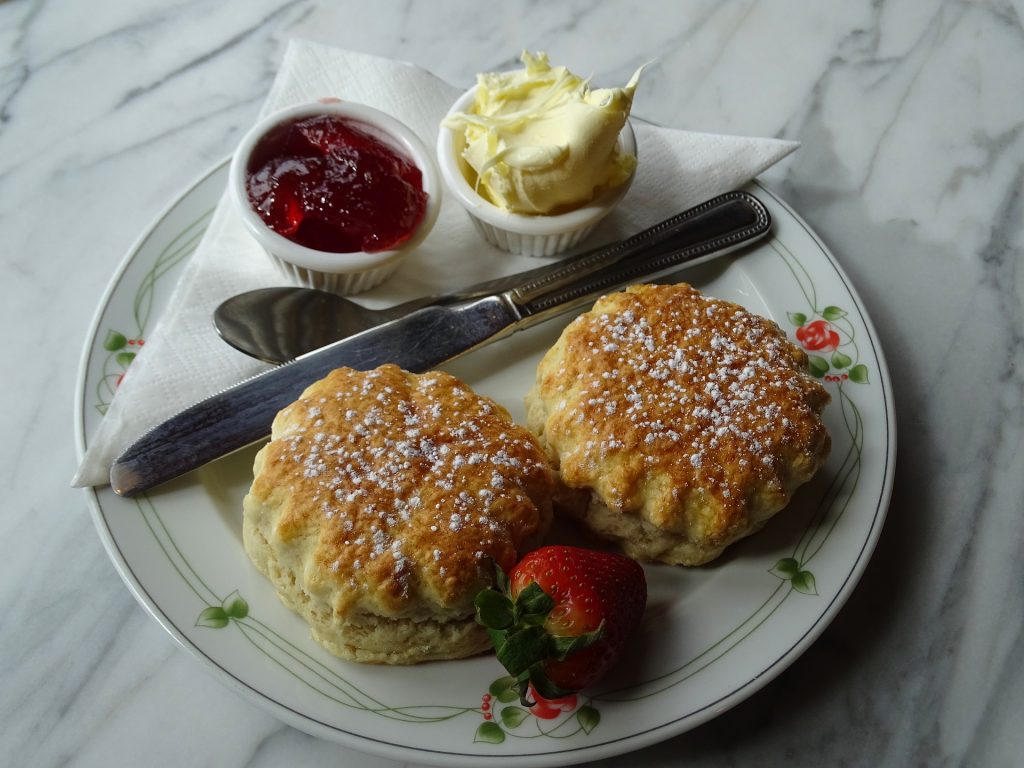 Serving Scones
The drama doesn't end at the pronunciation. Oh no, these controversial little sweet breads continue to divide us. As now, we have to decide whether you put on the cream or jam first. The answer to this may depend on whether you come from Devon or Cornwall, but many a debate has been had as to the best way. Some experts say that if you put the cream on before the jam, you will be able to turn your scone over and the toppings won't fall off. I've never tried this myself, but I still go cream first, and always have!
One thing we can all agree on though, is that they are at their absolute best when they are still warm. We can also agree that an afternoon tea, is not an afternoon tea without scones. I've never had one served without them, and never will, if I can avoid it. It's just sacrilege, if you ask me.
They should definitely be served with clotted cream too. I sometimes had trouble getting it when I lived in Northern Ireland. If you can find it though, you definitely should. Whipped cream is nice, but it's too light and fluffy, and it lacks the tangy taste of clotted cream. Extra thick cream is slightly better, but it is still too plain.
If you have plain scones, they should also come with jam, or curd. Any will do, I particularly like mine with Passionfruit Curd, but I'll take a berry jam too, if that's what's on offer.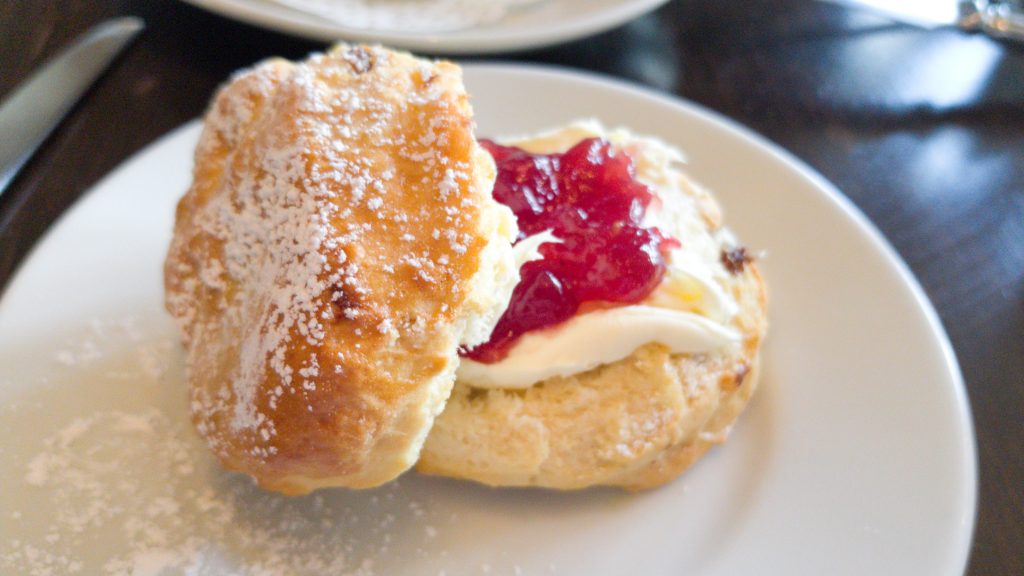 The Perfect Home Baked Scone
Baking the perfect scone is a skill that takes practise. I baked a gazillion of these over the years and have had my fair share of disasters, but I learned form every one and here is my list of top tips…
My Top Scone-Based Tips
First, your butter must be cold. If you are lucky enough to be in a warm climate, then you might even have to freeze it. Cold butter will not mix properly in your dough. This is good as the melting butter will create lovely pockets of steam during baking. Even warm hands can melt the butter, so keep them cold too, if you can.
Choose to use buttermilk instead of milk. It will react with the baking powder which will make your scones rise. This will make them nice and light in texture. It also adds a lovely tangy flavour to the scones. You can learn more about buttermilk, including my guide on how to make your own, and find my awesome cornbread recipe, here.
Don't over work your dough. This is so important. If you over mix your dough, gluten will start to tighten, and your scones will be dense and chewy. Stop mixing as soon as the ingredients are all incorporated. For this same reason, you should only re-roll your dough once after cutting out your scones.
Never re-roll your dough more than once!
Always stir the flour and baking powder and then sieve it. This ensures the baking powder is evenly distributed throughout the dough. Sifting will add air and lightness to the dough.
Don't twist your cutter when you cut out the scones. If you twist as you push down, then the dough will also be twisted, and that will stop your scones from rising evenly. You should also place them upside down on your baking tray, they will rise better if they are facing the same direction the cutter went.
Freeze your fruit! Yep, if you are using fruit in your scones, freeze it first. The fruit will defrost and cook just fine, but the coldness of it will keep your butter from melting too quickly.
Use your freezer! Most recipes make at least twelve scones, but if you only want one or two, then what do you do with the rest? The dough itself freezes really well, so you can make and cut it days ahead of time. All you have to do is defrost and bake. Perfect if you want to impress your friends with your baking, but time will be short. I recommend this when you are making a full Afternoon tea, it is just another job you can get out of the way in advance. You can also freeze the baked scones. Simply defrost and reheat whenever you need one or two!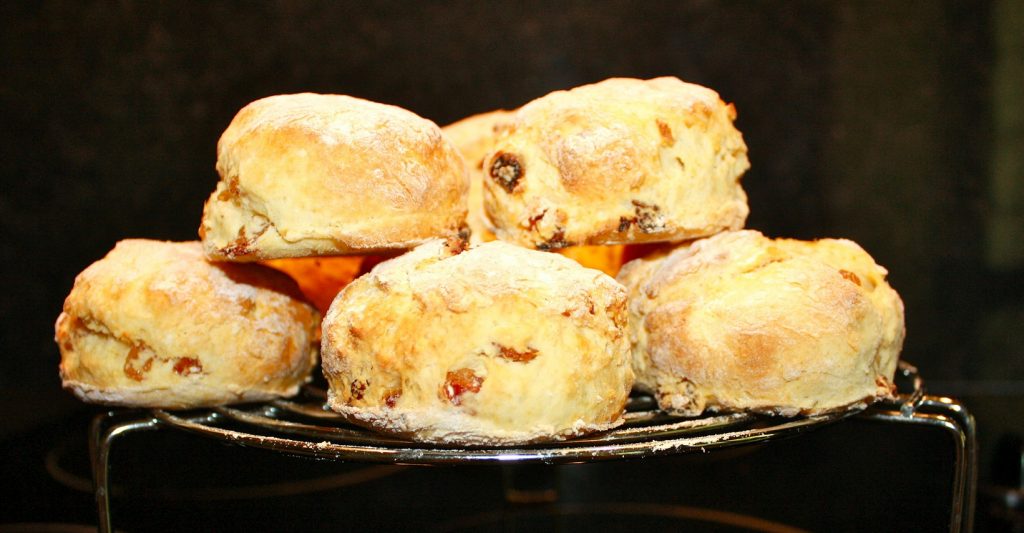 My Perfect Buttermilk Scone Recipe
Click here for my plain and simple, Buttermilk Scone recipe. These scones are lovely just as they are. But, if you are feeling creative, you could adapt the recipe to include fruit or chocolate. Or you could omit the sugar altogether and add some cheese and roasted onions! Be careful to adjust the buttermilk to allow for any extra liquid you add though. If they are too moist, they won't rise properly, and will be tough. Happy Experimenting.
How do you prefer your scones?
Founder/Caker at For Cakes Sake: a catering company that specialises in Afternoon Tea and Cakes for all types of event.
Writer of novels, blogs and non-fiction works