My first afternoon tea experience was an absolute delight. A basket of perfectly warmed scones, a selection of finger sandwiches and two tiers of tasty bites and treats. Unlimited tea and coffee and an attentive waiter made for an exceptional afternoon. We feasted for two hours before admitting defeat and boxing up the left overs.
Many teas have come and gone. But so far The Everglades in Londonderry remains my favourite.
Will this week be the week that I find a new favourite?
Hotel du Vin Vs Fernie Castle
Two afternoon teas in one week, how lucky am I? It was all in the name of research though – honest!
Creating the perfect afternoon tea is a balancing act of sweet and savoury and quantity vs quality. So, the more afternoon tea's I experience, the better. I need to know what works, and what doesn't, as I work on creating the perfect make-at-home tea for you.
Hotel Du Vin
A four star hotel set in the ancient Scottish town of St Andrews. The Hotel Du Vin offers a warm welcome, and an afternoon tea that is the perfect combination of sweet and savoury. It promises to be "a little naughty, but worth every bite!"
What did we get?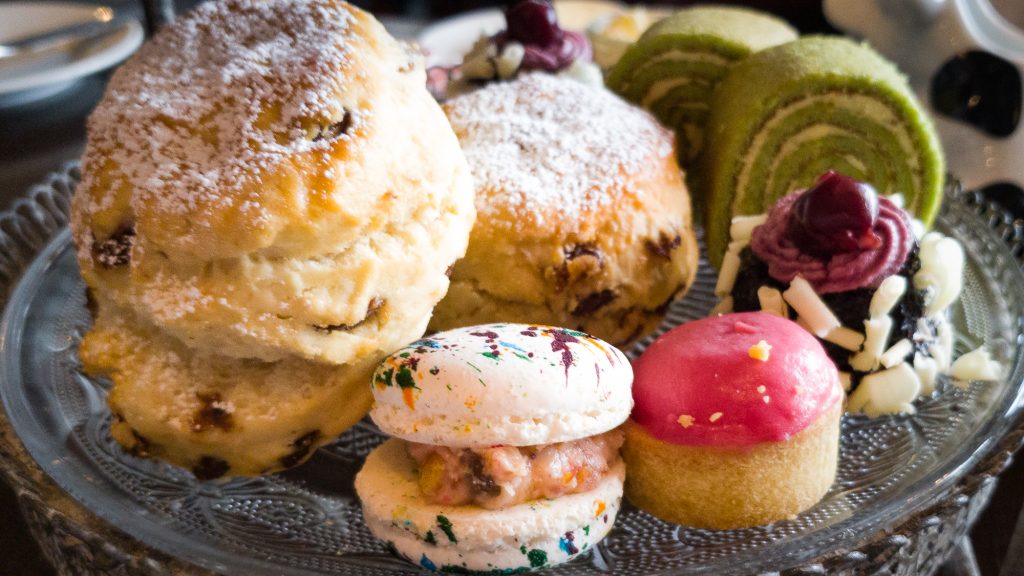 A delicious selection of sweet and savoury treats served over two tiers. On the top, we have an open sandwich, a sub roll, a mini quiche, a galette and a mini croissant. And on the bottom, a large sultana scone, a macaron, a mini gateau, a pinwheel and a tiny tart. To compliment the scones, there is also a selection of jams, butter and some clotted cream. There is also an extensive list of interesting tea's including Gingerbread Chai , Earl Grey Creme and Dozy Girl! You can, of course, have a simple Great British Cuppa, if you prefer!
The Good? The Bad? The Ugly?
Definitely no ugly – thank goodness!
The service was OK, although there was some confusion over the fact that we didn't want fish in the sandwiches – I really hate salmon! And then we had to wait ages for them to return with our food. On the plus side, they created something new for us, which is surprising, as I would have expected them to double up on something already on the plate. Top marks for that.
I loved the balance of sweet and savoury at Hotel Du Vin. We got five pieces of each which I felt was perfect. On the savoury plate we were treated to a nice variety of items too, not just a pile of sandwiches which is often the case. I loved the mini croissant with ham and grated cheese, but the star of the show was the little goats cheese and spinach quiche. I could eat a huge pile of these, the pastry was divine, perfectly thin and crumbly, it was just delicious. The tomato and tapenade galette didn't need to be there. It was pretty unremarkable. So much so, that I had to edit this post afterwards to mention it!
"Good balance of sweet and savoury"
The sweet plate was mostly well presented, but in taste it was quite disappointing. I felt the size of the scones to be overpowering on the plate. Afternoon tea items should be large enough to eat in two or three bites only, these took much more than that. I would have preferred to have had two smaller ones, and for them to be served alongside the cream and jam. I wasn't sure about the "bits" in the tutti fruitti macaron either, but I have to say, they looked fabulous. The black forest gateau was the most disappointing. I saved mine till last because I thought it looked awesome, but it was claggy to eat and stuck to the roof of the mouth.
That's enough negativity for now, instead lets talk about the pistachio pinwheel. It was absolutely delightful, light but not crumbly and with the perfect amount of filling. If I had to be critical I would say that it was a little big for the plate, but I adored it and I have even added it to my "to-bake" list.
They do a selection of teas too which I like. Very often you just get English Breakfast, which is lovely, but it's a nice touch to be offered a variety to choose from. And, they are happy for you to substitute coffee if that's what you prefer.
Would I go again?
I enjoyed what I had, especially the pinwheels. But, it didn't wow me as much as I hoped it would. The cost is similar to other experiences I have had, and it just didn't quite meet their standard. The tea itself wasn't unlimited either, which it has been at all my previous tea's. An attentive waiter really can make a huge difference to your overall experience. Regularly checking in, and refreshing the tea pot, goes a long way to making you feel special. The experience is important, afternoon tea is not just about the food. Not for me anyway.
Fernie Castle

This is the most expensive afternoon tea I have ever had. Served in a 14th century castle setting, the picture promises a delightful afternoon tea experience. It's pretty hard to get a reservation here, so I have been looking forward to this for a good while! But, how did it measure up?
What did we get?
A truly disappointing offering, served over three small tiers. To start, we had a selection of finger sandwiches and a mini vol-au-vent.
One plain and one fruit scone each made up the middle tier. And to finish, two cupcakes, an eclair and a thin slice of battenberg.

Then, on the side, we had a handful of wrapped butter portions, a small pot of jam and a small pot of chantilly cream. And to wash it down a choice of tea or coffee. I added a glass of prosecco today – a good call, as it turns out!
The Good? The Bad? The Ugly?
Considering that this is the most expensive afternoon tea I have ever had, I think it is safe to say that I am pretty disappointed. The sandwiches lacked imagination and were made out of cheap sliced bread. For the price they are charging I would expect only freshly baked bread. The fillings were a little scarce too. A thin slice of ham and a scrape of mustard? I don't think so. For that price I want hand carved, home roasted gammon and home made bread. The brie, in the brie and pickle, was weeks away from being ripe, and the smear of egg mayonnaise wasn't even seasoned!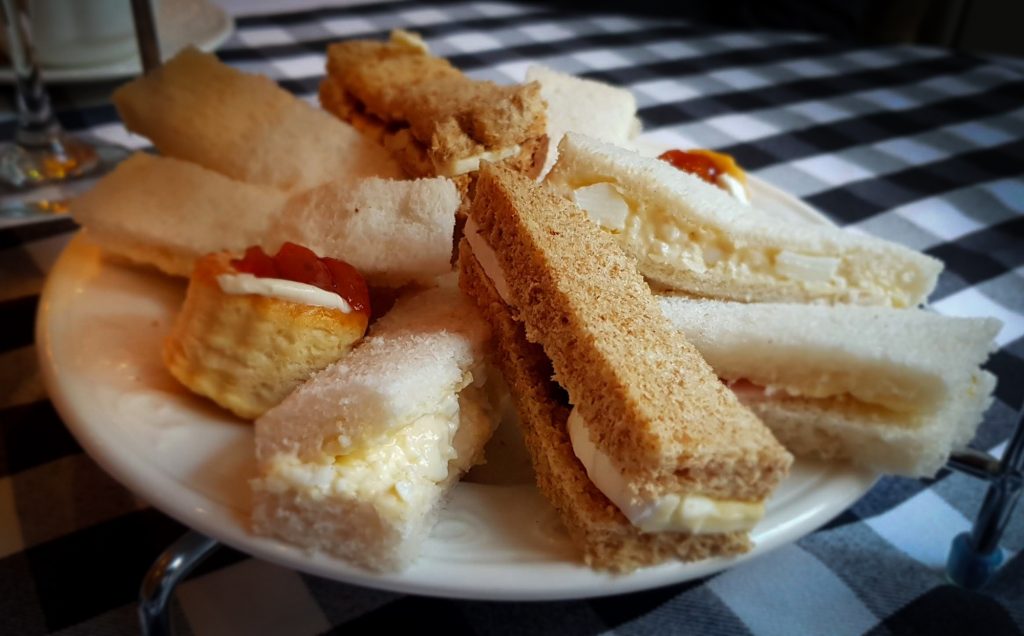 The scones had been through the wringer too (maybe literally). The mixture had been overworked, a common mistake, and as such the scones were quite heavy. And, they had been re-heated, mine was even a little burned underneath. To add insult to injury, the flipping things were also served stone cold! We didn't even get proper clotted cream or a selection of jam. What little we did get we had to share out carefully, as there was barely enough to cover each scone. For that price, I want oodles of jam and real clotted cream, spooned indulgently over warm, fluffy scones – a far cry.
"I do not want to have to negotiate with my fiance…"
But, enough about the crappy scones. Lets move on to the top tier. What can I say about that? The eclair tasted a little stale and needed three times as much cream filling. However, the cupcakes were light and tasty, and the battenberg was very nice. BUT! (You knew there would be a but, didn't you?) We had two cupcakes, of two different flavours. Only one slice of battenberg, and one medium sized eclair. This style of presentation really gets to me. I want to taste everything that is offered. I do not want to have to negotiate with my fiance over who gets what.
This tea gave me flashbacks to a previous tea we had shared in Holywood, Co Down. On that one all the little treats were different, and, bizarrely, we had an odd number of scones! At least these were large enough to cut in half, so I was able to get a taste of everything this time.
Would I go again?
God no! It took only 23 minutes to finish off their offering. Not in a million years would I take afternoon tea at Fernie Castle again. Nope, no, never. They have a cheek charging so much for what they are offering. They need to seriously up their game, or half the price!
So, did they measure up to the Everglades in Londonderry?
Nope! The Hotel Du Vin came closest, and with a few improvements it could certainly be a contender. But, Fernie Castle needs to completely rethink their attitude to afternoon tea and the product they are offering.
So, The Everglades Hotel in Londonderry still holds the prize for the best afternoon tea for me. It really is a tough act to follow
Founder/Caker at For Cakes Sake: a catering company that specialises in Afternoon Tea and Cakes for all types of event.
Writer of novels, blogs and non-fiction works