What is afternoon tea?
The Collins Dictionary describes Afternoon Tea as a "small meal you can have in the afternoon," but it is so much more than that. It is the most British of traditions.
This is no ordinary afternoon treat.
Not to be confused with the more robust High Tea. So called as it is taken in a high backed chair, and at a table. Afternoon tea is a refined affair, served in low chairs. Unlike High Tea, this is an event that is traditionally reserved for the wealthy. This is a light meal consisting of delicate sandwiches, scones, pastries and cakes, and is enjoyed alongside pots of leaf tea.
Traditionally served around 4pm, afternoon tea used to be a stop gap between breakfast and a late dinner. Originally enjoyed privately by well-to-do ladies, it is now a treat that is served by many cafe's, hotels and restaurants. Once reserved for the elite, it can now be enjoyed by everyone, at almost anytime.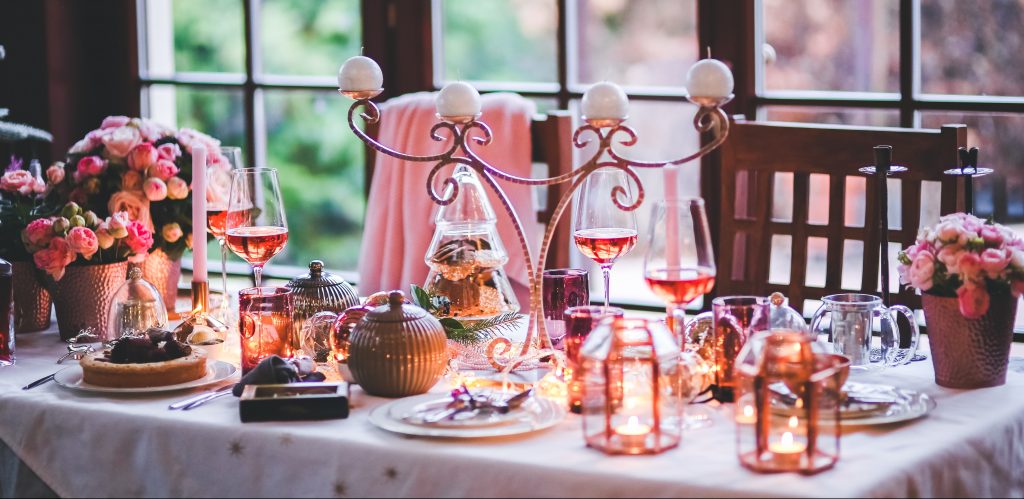 The History of Afternoon Tea
In the early 19th Century, it was not common practise to serve a meal in the middle of the day. Dinner would not usually be served until 8pm or later, which meant a long gap between meals. During one late afternoon, Anna Maria, the 7th Duchess of Bedford described a "sinking feeling" in her stomach. Her solution was a pot of tea and a snack, taken privately in her room. This late afternoon meal was just what she needed and it quickly became a part of her routine. She enjoyed it so much that she soon began inviting her girl friends to join her in her rooms.
Her tea's became very popular, and she continued hosting them when she stayed at her London home. It soon became a respectable practise, and was eventually moved from her private rooms, to the more appropriate drawing room. Her friends were taken by the novelty, and quickly began hosting their own teas. In no time at all, high society was completely hooked on taking Afternoon Tea.
Afternoon Tea had been a quiet and refined affair, enjoyed among societies ladies. That was until Queen Victoria gave it her approval and turned it into an epic occasion. Now known as a tea reception. Afternoon Tea had become an event that would take place over three hours, and serve as many as 200 invited guests.
Once a daily affair. Afternoon Tea is now reserved for special occasions, and offers the perfect excuse to dress up and enjoy a very indulgent treat.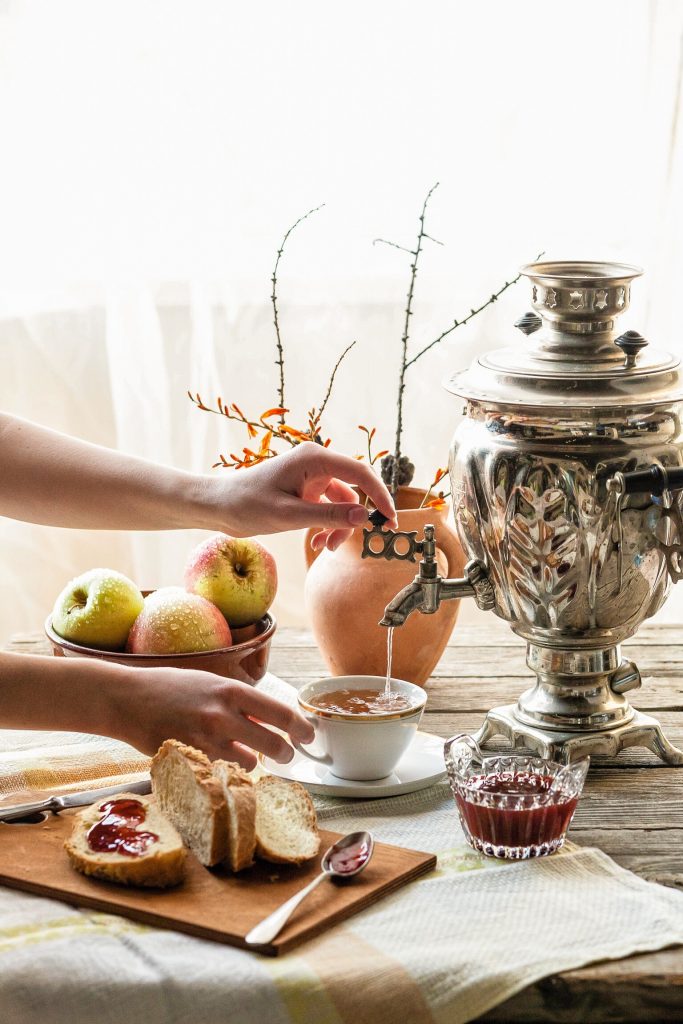 What's on the menu?
Leaf tea was expensive in the early 19th century, but it was increasing in popularity. Serving it was a great way to impress your guests, and there would always be plenty of it. As you might expect, tea cannot simply be drunk, there are rules that must be followed. Etiquette states that tea must be folded in the cup and not stirred, and the spoon must not clink against the side of the cup. It does not do to lift the saucer from the table either and the cup must only be held by the handle between the thumb and forefinger.
Coffee is a more recent addition. As is the introduction of an indulgent glass of Champagne, making it a Royal Afternoon Tea.
Afternoon Tea was originally served in courses. Traditionally you would start with finger sandwiches with fillings such as cucumber, fish paste, egg mayonnaise and cress, smoked salmon and cream cheese, coronation chicken or ham and mustard.
These sandwiches would be delicate items, served with the crusts removed and in small pieces that could be eaten in two or three bites.
Scones did not feature in early afternoon teas. In fact, they weren't introduced until the 20th century. They quickly became a staple though, and it's hard to imagine an Afternoon Tea without them today. So, your second course is the cream tea. Warm scones are served with clotted cream (it has to be clotted), and a selection of jams and curds. Just like the delicate finger sandwiches, scones also come with rules.
Cream or Jam first?
Start by splitting your scone in half and removing the top. Now things get a little controversial. Whether you spread the cream or jam first will depend on whether you are from Devon or Cornwall. I'm a Devon gal, so cream first. But, whatever you do, do not eat them like a sandwich, and never with a fork or spoon!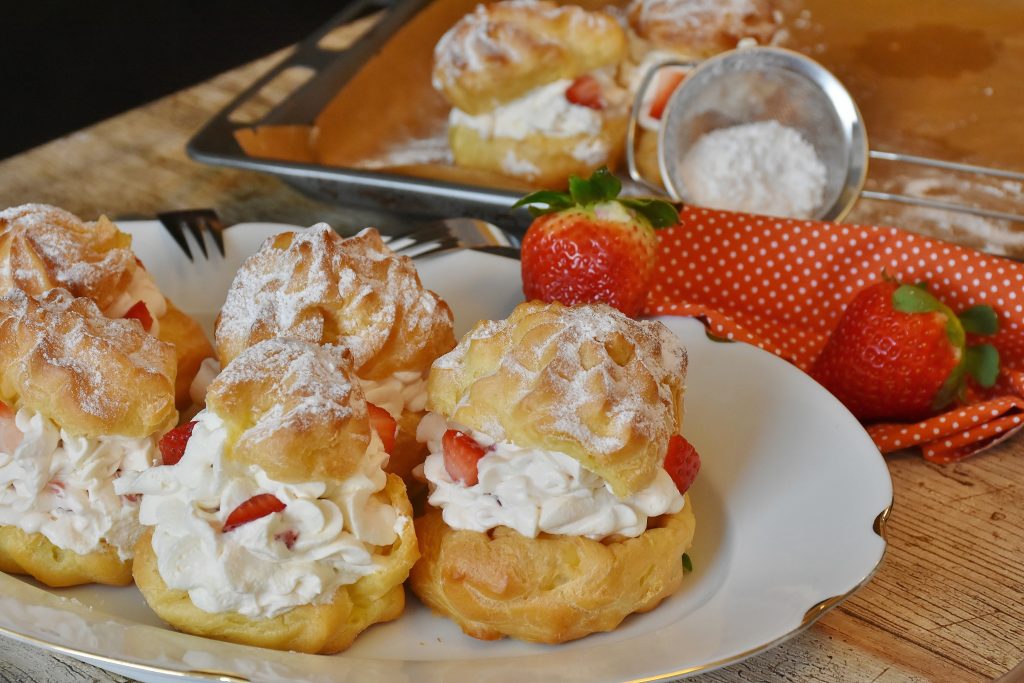 The third and final course consists of small sweets, cakes and pastries – but not biscuits, traditionally. These should again be small enough to eat in two or three bites, and they should only be eaten with the fingers.
Today your afternoon tea will most likely be served all at once, and on some kind of tiered plate. It is not usual for the courses to be served separately, though and some places still enjoy the tradition. It should be noted that no matter how it is served, it is still proper to eat the courses in the correct order. I do not follow this tradition!
Afternoon Tea and Me
Afternoon tea is my absolutely favourite meal of the day, in fact I would go so far as to say I am a little obsessed. Is there anything more civilised than sitting down to plates of tasty treats while drinking pots of tea?
I have enjoyed more than my fair share of tea's, some good and, some, less so over the years! I also love to host them, and have spent years trying to figure out how to throw the perfect afternoon tea.
Stay tuned to my blog as over the coming months, as I will be looking at the perfect menu. I'll be balancing make ahead and last minute recipes, working out timings and sharing my hints and tips for an awesome afternoon tea that you can serve to your friends and family.
In the mean time, I have two Afternoon Tea's booked (for research purposes, of course) at the 4* Hotel Du Vin on the 12th February and again at the 4* Fernie Castle Hotel on the 15th February. I have high hopes for Fernie Castle as it was pretty hard to get a table. I can't wait to test out what they have to offer, and see how it measures up against previous teas. They describe it as dainty, delicious and indulgent, so it promises to be my very best yet – no pressure then!
The Malmaison is next on my list – voted as offering one of the UK's most creative afternoon teas, I can't wait to see what they have to offer.
Where do you recommend I go after that?
Founder/Caker at For Cakes Sake: a catering company that specialises in Afternoon Tea and Cakes for all types of event.
Writer of novels, blogs and non-fiction works