Yay! After hours (literally) of hard work I am now qualified to bake, decorate and sell cakes of all kinds. It sounds very exciting but, if I'm honest, the course seemed a little on the simple side. I'm a little concerned, actually, by how easy it is to set yourself up as a food producer. I take my victories where I find them though, so…

Yay Me! Wanna buy a cake??
The course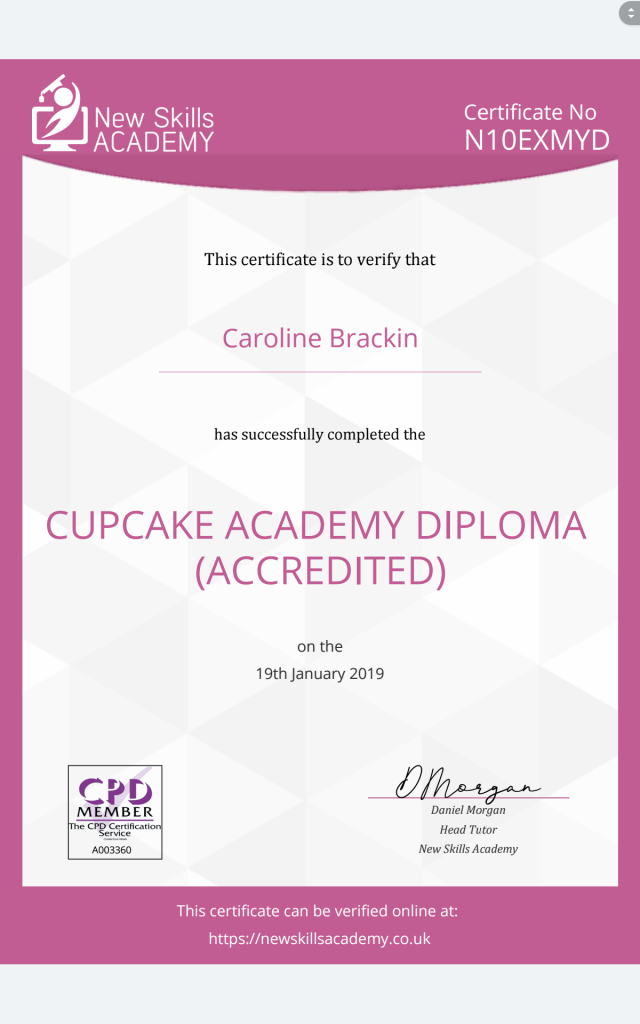 There are modules that cover baking and decorating cakes, and business management. I have baked and decorated more than my fair share of cupcakes, muffins and celebration cakes over the years. I'm not a stranger to running a business either, but after doing this course I still don't feel ready to sell my goodies. I was hoping this course would give me a bit more confidence. It promised to. And valued at £299, it should've. But, it's good to know that there are no gaping holes in my knowledge.

I can now at least register with my local environmental health department. And, subject to their approval, start selling my goodies!
Poor Advice
Some of the advice they are giving out in this course is actually pretty poor. I was especially annoyed when they suggested putting milk in butter icing. Please don't do that, it reduces the shelf life of your buttercream from months to days. Use water, or even better, use condensed milk instead (it tastes lovely).
Photography Module
This was a very quick module, and all it really told you was to buy a DSLR camera. Done that. It went on to suggest experimenting with lighting, settings and composition. Done that too. This was disappointing as the point of taking a course, is to be taught, surely. You can experiment any day of the week, for free.
It also suggested hiring a hungry photographer (as an alternative to taking your own pictures), and offering to pay him in cake! Not good business advice, if you ask me. Surely their time is as valuable as mine, why shouldn't he be paid for it? That's a debate for another day though. As an author I regularly see people being asked to work for free, or the promise of promotion, or in exchange for… and it really annoys me! I'm going to stop there before "Rant Mode" is activated (it's a nightmare to switch off), and just finish by saying that this module was a particular disappointment. I am working on my photography at the moment, and I was looking forward to some useful tips.
What else have I learned recently…
Don't shop in Hobby Craft on a Sunday afternoon!
I should have guessed this, but I didn't and I went there. It took me a ridiculous amount of time to get round and get all the bits on my list. I had a discount code to use up so it was worth persevering, this time. I will never try to shop in there on a weekend again though – not unless I really have to .
Sugar and Crumbs are awesome
I am now in love with Sugar and Crumbs, they have a great Facebook group (look it up here) where I am picking up so many amazing tips and ideas. But, their main business is their online store where they stock all things cakey, including their own brand of goodies. I have bought a stock of their flavoured icing sugars including the Lemon Drizzle, Turkish Delight and Strawberry Milkshake. You can use them to make buttercream, flavour basic cake recipes and even make fudge. They taste amazing and are so easy to use, I highly recommended them. They also do their own range of nozzles which look awesome – I bought a tonne of them but I haven't tried them out – yet! You can visit their website here.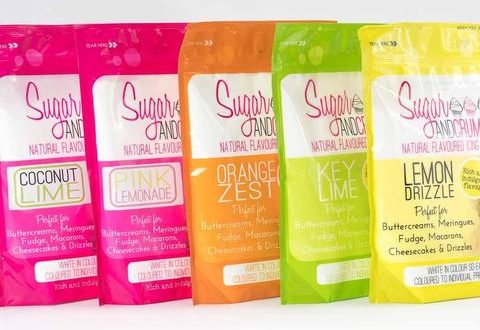 Cakeflix
I decided to subscribe to Cakeflix, it was 50% off so I couldn't resist. They are based in Glasgow, which is not too far away from me in Dundee. I'm not sure why that's important, as they are an online company, but it makes me feel better! They have an amazing selection (over 800) of tutorials ranging from specific techniques, to full cake designs and even business tutorials. I have already learned so much from the few I have seen, and I feel completely inspired and lacking in time – so much cake, so little time, so few spare calories. I'm still fighting the effects of Christmas, which means I will be inflicting my cake experiments on willing friends, while I can still fit in my jeans!
Coming up…
I still have a Madeira cake in the freezer and I have plans to make a mini celebration cake. I have a kitchen full of all kinds of tools and nozzles now that I want to try out. Plus, I've been binge watching tutorials on Cakeflix. I don't want to spoil the surprise but I will say there might be some marbling and some dripping!
I've been working on my photography (thanks to Chris Mitchell), and perfecting my brownie recipe at the same time. More on that next time though…
Founder/Caker at For Cakes Sake: a catering company that specialises in Afternoon Tea and Cakes for all types of event.
Writer of novels, blogs and non-fiction works