I had so many intentions to make all kinds of wonderful cakes and bakes over Christmas. The problem being, that apart from me and my fiance, there is no one here to eat them. This is a frequent problem for me. So, I had some tough decisions had to make.
I already had my Christmas cake, and you can't have Christmas without mince pies. I was also dying to try out a new recipe for a muffin/croissant/mince pie hybrid. So, the traditional yule log was given the boot. That was a shame, as I had just bought an awesome new swiss roll tin in the Black Friday sales. It was a Mary Berry too – but I had to consider my waist-line. So there was going to be no yule log for us, this Christmas.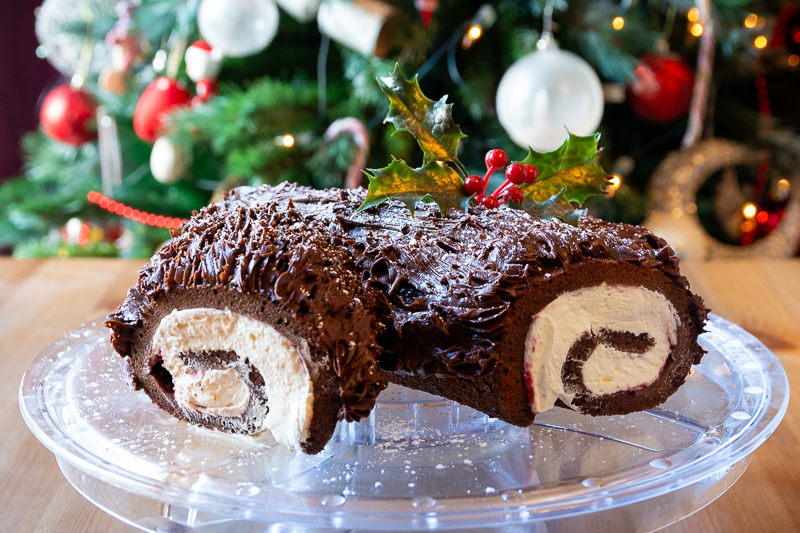 New Year, New Tin
We're now well into January, and Christmas has long passed. Not that you would know from the Christmas tree in my picture (I will take it down before February, promise!) I'm rummaging through my pans, searching for a baking tray, and what do I find – my unused, Mary Berry branded, swiss roll tin. I've finished the cakes and pies, and I have all the ingredients I need. Clearly the gods have spoken – I'm making a Yule Log. It's not Christmas though, so I need to mix things up a little – welcome to the Black Forrest Log.
The Recipe
You can't go wrong with a Mary Berry recipe. I never have anyway, so I looked her up on the Good Food app. The recipe I found mentioned the first Bake Off book, which I had. I really don't like to follow recipes on my phone, not if I can avoid it, so I looked it up. But, they were completely different. I have never understood this, surely when a baker finds a core recipe they like, they stick to it. I can understand slight variations due to changes of flavourings etc, but surely the basic recipes should be the same, shouldn't they?
The differences were huge. In the book she used butter, plain flour and no baking powder, but on the app she used self raising flour and no butter. Quite a difference. I went with the app version, mostly because it had plenty of good reviews, so I felt like I could trust it! It's the only reason I use recipes found on the internet to be honest. If they incorporated reviews into books, I would be a happy book-baking-bunny!
The recipe
This was my first time making a swiss roll from scratch. I have always cheated in the past and bought one to decorate, so I really enjoyed this challenge. It was not entirely straight forward though! I watched Mary Berry do this on the TV over Christmas, so I had some idea of what was involved, but she makes it look so easy. It was not.
The cake was oven-hot, and I needed to work hard to get it off the baking parchment as I rolled it into the log shape. The rolled up cake took ages to cool down as well, and in the end, I resorted to chilling it in the freezer. I just couldn't wait to begin decorating (and eating) it!
This is a Black Forrest Log, so before adding the whipped cream, I spread the cake with black cherry Jam. This was an awesome touch, and I will definitely be doing that again. If you make this, I recommend using one with whole cherry's. And, use plenty – this is no time to be stingy!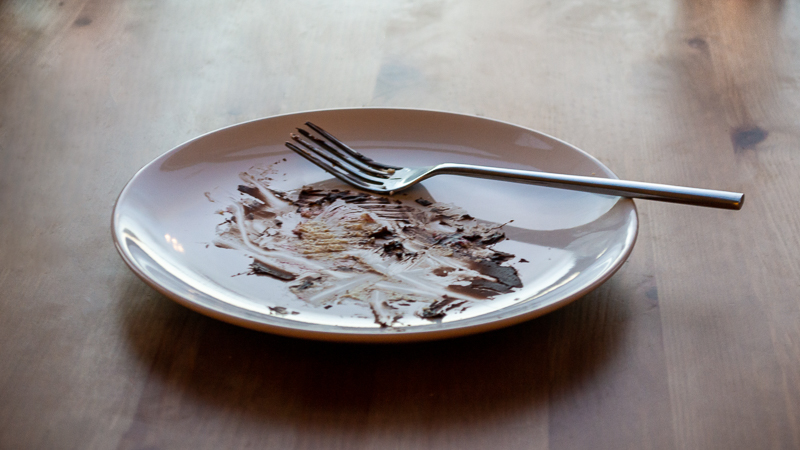 The Verdict
This tasted awesome, and I will definitely make it again. Next time, though, I will experiment with a different cream filling. I enjoyed the fresh cream, but it meant the cake needed to be kept in the fridge. It took up a lot of space, which I didn't really have. It also made the cake crumb tighten, which was fine. But, I think it would have had a lighter texture had it been kept at room temperature.
I am still intrigued by the alternative recipe that never was. Clearly, I'll have to make a spring log and try it out – watch this space!
Useful Links
The recipe I used is here: https://www.bbc.com/food/recipes/yule_log_15656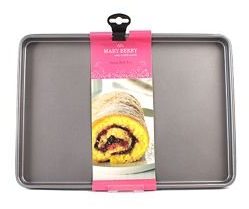 Get your swiss roll tin from Amazon here: https://amzn.to/2RhrynU
Founder/Caker at For Cakes Sake: a catering company that specialises in Afternoon Tea and Cakes for all types of event.
Writer of novels, blogs and non-fiction works