When I asked my fiance what type of cake he wanted for his birthday, I wasn't expecting him to ask for a Baked Alaska. I've never even eaten one, let alone made one, but I could hardly say no. He raves about the one his mum used to make, so it's a good job I love trying new recipes!
Thankfully, I have a shelf full of recipe books. And, the internet isn't exactly short of ideas either. So I was confident I would be able to throw something together. Here goes…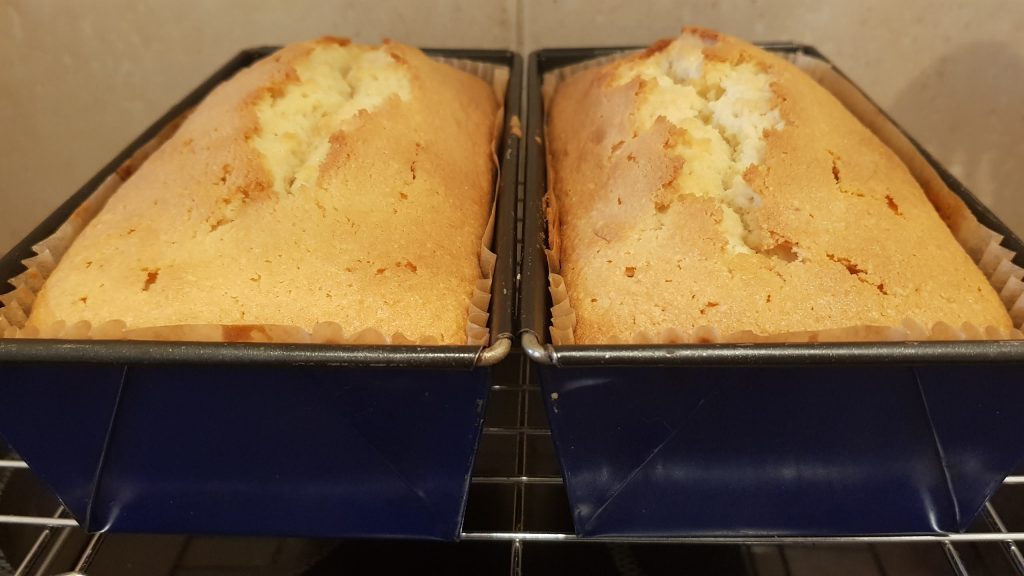 Popular during the 80's; the Baked Alaska consists of three basic elements – cake, ice-cream, and meringue. The challenge is to cook the meringue without melting the ice-cream. If you get it right, you'll have a delicious desert which is both hot and cold- yummy!
The Cake
I'll start with the cake. I'm making a Birthday Baked Alaska, so I opted for a Madeira cake. I have an excellent recipe for Madeira which tastes great, especially when you sandwich it with buttercream and jam.
Traditionally, a Madeira recipe calls for a mixture of flours. Some people like to use self raising and plain, I use a mix of self raising flour and almond flour. It gives a lovely texture, and it tastes awesome too. I doubled the recipe today and made two ( I only need a half of a loaf, but I it freezes really well, and I have plans for the rest – stay tuned to see what I do with it).
There is only two of us. So, after levelling one loaf, I cut it in half to make a smaller, square cake. I wanted to capture that birthday cake flavour so of course I sandwiched it with buttercream and jam. I don't need a lot of buttercream for this, but my recipe makes a ton, so I popped the rest in the fridge for another time, it'll keep in there for a good while – if I don't use eat it first, of course!
The Ice Cream
Next, the Ice-Cream. I'm sure any flavour would do, but this one is special so I headed to Sainsbury's to see what they had on offer. Thankfully, they didn't have a massive selection. But, that didn't stop me starring at the choices they did have as I made my choice. In the end, I went for a strawberry cheesecake flavoured ice cream as I felt the flavours would work well with the jam and cream. I used Haagen Dazs which was hard as rock and in no way scoopable. So, I opened a bottle of wine and waited twenty minutes for the ice cream to soften up. Of course, now the ice cream is to soft to bake, so I had another glass while it firmed up in the freezer. 30 Minutes would have done the trick, but I left it in for a little longer. Whoops – bad wine!
The Meringue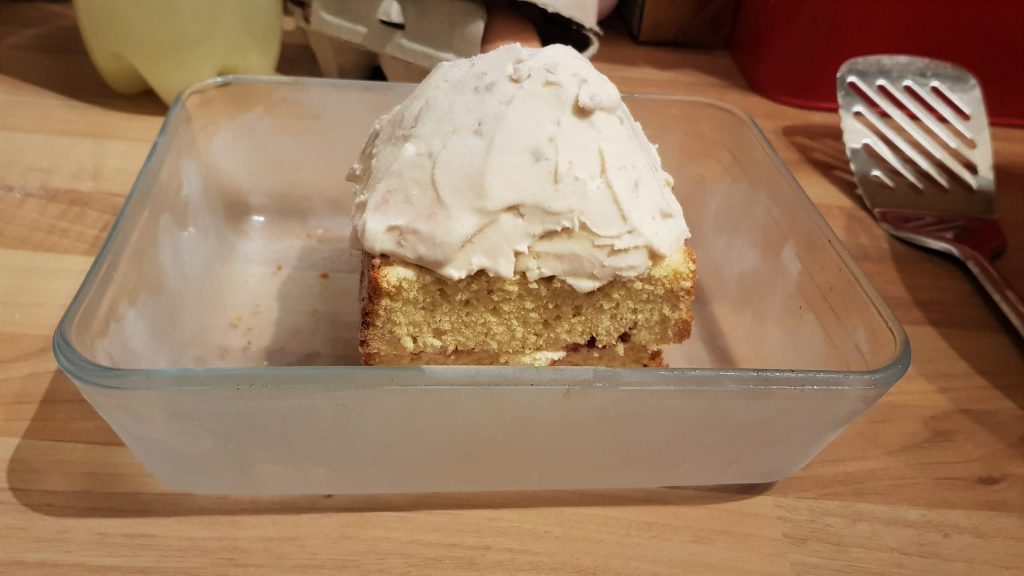 Basic Meringue
Whisk 1 egg white until stiff, then add 60g sugar (one desert spoon at a time) until thick and shiny.
It'll look a bit like this (see above) when you take it out of the freezer. Now that the ice cream is nice and firm, the next step is to cover it entirely with a thick layer of meringue. There can't be any gaps as the heat will get to the ice cream and melt it. before it has a chance to cook. I set my timer for 8 minutes and crossed my fingers.
I was half expecting a gooey, creamy mess. But, it looked amazing, so I took a quick pic and grabbed some spoons. It was every bit as good as I expected. And, not only that, my fiance loved it too. Phew!
The Finished Thing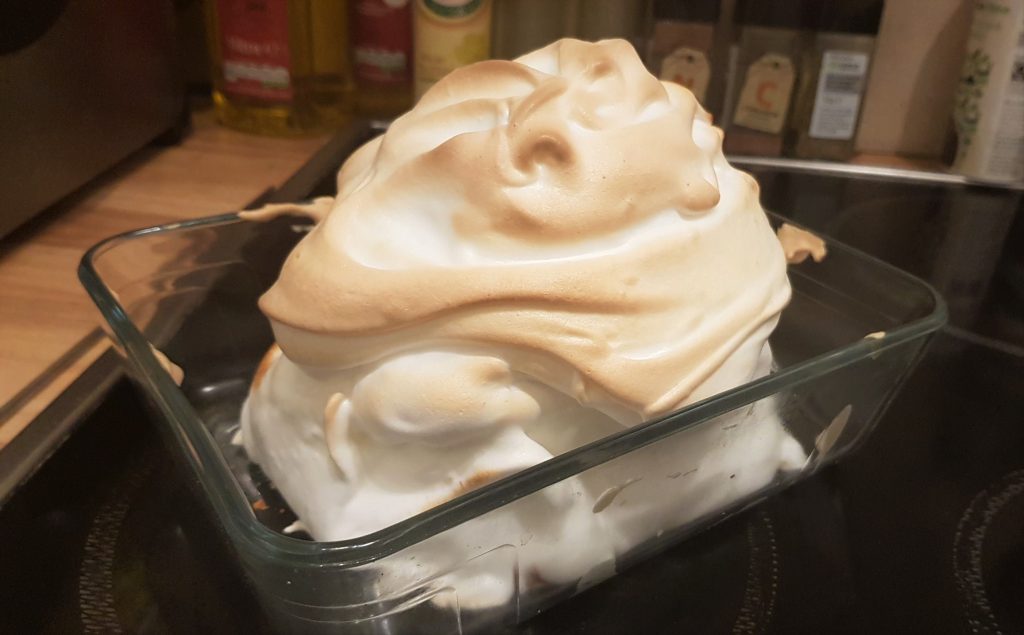 The Verdict
It wasn't perfect though, and there were a few issues which I will rectify for next time. Firstly, the bottom half of the Alaska was protected by the sides of the dish. This meant that it wasn't as well cooked at the bottom as the top. My trusty blow torch fixed the meringue. Next time I'll just use a baking tray. The cake was still a little frozen too, but a little less time in the freezer would have sorted that.
We polished this off between two of us but I think it probably should have served four – my bad!
It took most of the day to make this. I could have saved a lot of time by buying a cake, of course, but there is no fun in that. This would be a good make ahead recipe for a dinner party, as you can assemble it all at the last minute, and then pop it in the freezer. When you are ready, just smoother in meringue and bake! Don't over cater though, this will not keep, and you'll need to to eat it all straight away.
The Leftovers
I have recently become a member of an awesome Facebook group. The girls are constantly posting up pictures of their cakes, and I have seen a few techniques that I would like to try. Let's just say, I have interesting plans for the left over cakes, and I can't wait to show you want I'm doing!
Founder/Caker at For Cakes Sake: a catering company that specialises in Afternoon Tea and Cakes for all types of event.
Writer of novels, blogs and non-fiction works